Simple mode
One-click downloading
It is really that fast and convenient! You pretty much just need to paste a link to your video and VideoDuke will take care of everything else. Simple mode offers you quick access to downloading from Vimeo, Dailymotion, and YouTube. You can save videos* of various types in 3GP, MP4, M4V, FLV formats with 360p, HD 720p, HD 1080p or another resolution.
YouTube
Mac video downloader for YouTube
Download YouTube Playlists and Channels
No need to download video by video from YouTube when you actually want to get the whole playlist or maybe even a channel. When downloading a channel or a playlist, no matter how many videos they contain, you get to choose the quality for each saved file. Resolutions you can get range from 2K, 4K, 5K, or 8K to 1440p, 1080p, 720p, 480p, 360p, 240p, or 144p.
Download MP3 from YouTube
In case you only want a music file from YouTube, you can easily download it avoiding any unnecessary conversion from video to sound. VideoDuke keeps the audio track title and album art and offers saving files as WebM, MP3 or another supported format.
Workflow
Download video on Mac in a fun way
VideoDuke is a very intuitive app, it does exactly what you expect it to do and you instantly know how to use it once you opened it. VideoDuke supports all popular video websites, including everyone's favorite YouTube, Dailymotion, and Vimeo.
Browser mode
Find new videos to download directly in the app.
Quick access
Access YouTube, Vimeo, and Dailymotion from the app.
Bookmarks
Bookmark your favorite web pages with best videos.
VideoDuke Downloads
A dedicated folder for all your video downloads.
Bookmark your favorite content
If you frequent a certain website for your downloads or want to download some video, but a little later, bookmark them in VideoDuke! Create as many bookmarks as needed and go back to them when you have time.
Integrate Mac video downloader with a web browser
Put the VideoDuke button in your web browser's bookmark bar and use it when a great video comes along. Once you clicked the button, the app will open letting you save the video in a preferred format and resolution.
Advanced mode
Download all files related to a video
When using VideoDuke's Advanced mode you are not limited to just videos, you can also see and save all resources available on the web page, including the video, the audio it is using, Flash animation used on the page, images, etc.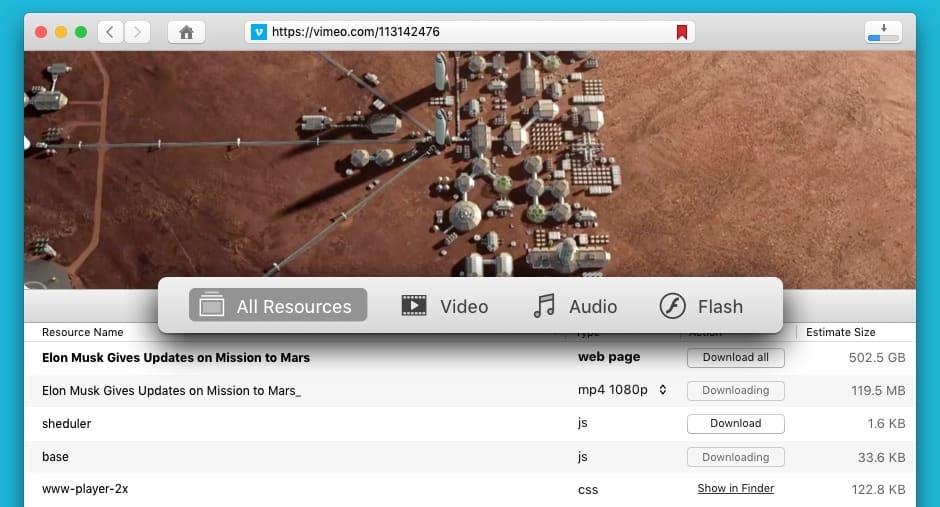 Download streaming videos
With VideoDuke you can also save your favorite streaming video, like an athletic event, an educational video, or else. Videos embedded via HTML5 or streaming over RTMP can be easily downloaded to your computer and you can watch and re-watch them when needed.
Download videos with subtitles
When downloading YouTube videos you get to save them with subtitles or closed captions, if they have them of course. In such cases you'll either get the subtitles on your hard drive in SRT format that is supported by multiple video players or embedded in the downloaded video.
Disclaimer
VideoDuke was created with the intent of backing up media content for personal offline use and storage. In case you are planning to make a backup of someone else's content, please, be aware: as a user, you are completely responsible for engaging in copyright infringement.